In case you missed the big news on the Twitter this week, on Sunday New Yorker reporter Emily Nussbaum tweeted this.
Okay, 1. Karen Carpenter came to Roanoke once. The Carpenters did a show at the Roanoke Civic Center in 1973 and my mom was there and she said it was great.
2. HILARIOUS! Punishment to go to Roanoke. Get it cause no one's ever heard of Roanoke, Virginia.
The sad part was author Stephen King responded with this.

Hey Stephen, maybe in those boring two weeks in Roanoke you could take the time to edit some of your books down a couple hundred pages!
No, sorry. Stephen King is one of the greatest American writers of all time. I just get testy when you make fun of my home town.
Listen, just say you've never been here. Because Roanoke is awesome. You see these pictures?
https://twitter.com/visitvbr/status/1359180257434083328
Breathtaking. Brilliant. Amazing. Incredible.
There are so many great things about our wonderful city to consider.
Wayne Newton is from here! He doesn't admit it and claims his "home town" is Las Vegas, but we know the truth.
The greatest free throw shooter in the history of college basketball, J.J. Redick, is also from here.
In middle school I was in love with J.J. Redick and during times when I knew Duke was out on breaks I would look his family's phone number up in the phone book and call his house just to see if he would answer. He never did. But my friends did meet him at a high school baseball game once and got me his autograph and it's still framed in my bedroom.
Other famous Roanokers include Henrietta Lacks, Whitney Cummings who apparently lived here once, and Ronde and Tiki Barber. You may know Tiki Barber because I think his wife was on one of the Real Housewives shows though I don't know which one and I don't feel like looking it up.
(There are some other people who have spent time living in Roanoke, but maybe don't look up the list…)
What's the deal with that star? That star is, according to Wikipedia "The Hollywood sign of the East Coast." I've never heard anyone call it that but I agree!
It is the largest free standing illuminated star IN THE WORLD. It was originally built as a Christmas decoration because in Roanoke we go hard.
Also this is the view from it.
How about famous eateries? Um, have you heard of Texas Tavern? The only place where asking for a fried egg on a hamburger is normal but asking for ketchup will get you yelled at.
But Cara, if it's in Virginia why is it called Texas Tavern?
… I don't know. No one knows. Whatever. Shut up. They don't cash checks or play with bumblebees. Kevin Bacon ate there once! And I know that because it was on the front page of our paper the next day.

If you're looking for celebrity sightings, those happen all the time here. One time my flight out of Roanoke's sprawling airport was delayed, and there was a lady there who had was also going to be on my flight and she had played at the Jefferson Center the night before and through a lot of eavesdropping I found out she was on "Orange Is The New Black." I can't remember her name but she was famous.
Also in Roanoke we have this very tall guy.
We also used to have this very tall dog. We don't anymore, but we used to.
We have this incredible piece of architecture, the Taubman Museum of Art. One time the art museum had an exhibit where they put a statue of a girl sitting on the ledge of the balcony and so many people called 911 thinking someone was trying to jump off of it the museum had to take it down. We get art around here.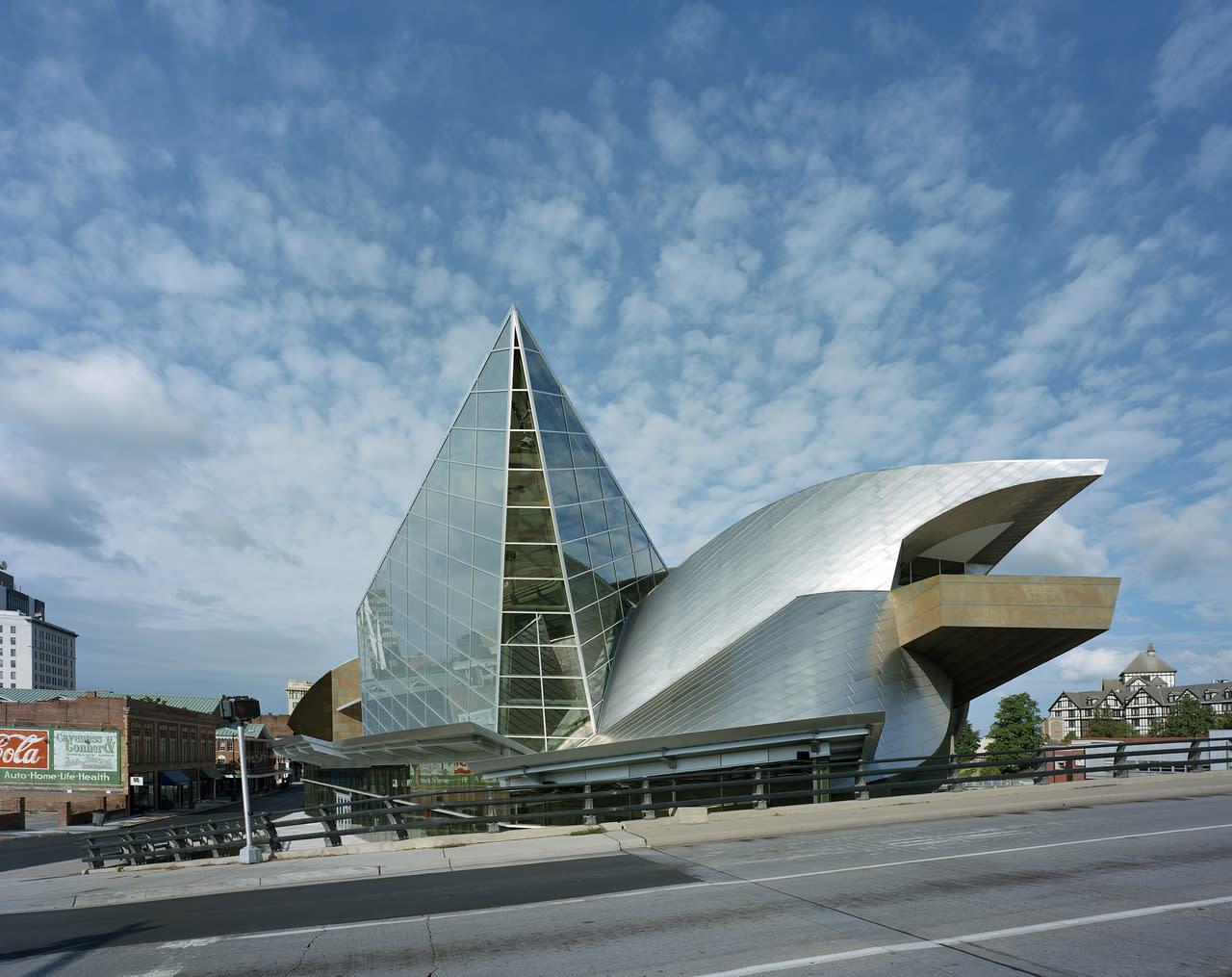 Look how pretty our downtown is!
If you want more incredible food, just head east of Roanoke to a wonderful small town called Vinton. In Vinton, a town of a population of 8,039 people, we have about a dozen restaurants, six of which are pizza places and three Mexican restaurants. That is a pizza or Mexican food place for every 893 people!
On the other side of Roanoke there is another small town called Salem. Salem has a minor league baseball team that Roger Clemens's son played for one summer. My mom sat beside Roger Clemens's wife in a suite at a game and said on the way home she didn't know who Roger Clemens was. My brother saw Roger Clemens running laps around the stadium during a game and said hi to him. He said hi back.
Someone I knew in high school saw Roger Clemens eating at Applebee's that summer. Yea, we have an Applebee's. We have four of them!
Salem is also the home of Roanoke College, a wonderful institution with really awesome alumni, if I do say so myself. According to Wikipedia, Kristen Wiig attended Roanoke College for some unknown amount of time (note – I cannot verify if that is true).
Arguably Roanoke College's most famous alumni is John McAfee, known best for creating McAfee computer virus protection and definitely nothing else he's ever done in his personal life.
If you go up the road from Salem a bit you'll get to some wonderful hiking trails, including this one called McAfee Knob which you've undoubtedly seen pictures of. (The name of the trail has no relation to John McAfee… I don't think…)
Though if I'm being honest I'm partial to Dragon's Tooth which is right across street. I mean.
Off of the Parkway we have the Explore Park, which is home to many hiking and bike trails and where a lot of school field trips take place and also it's haunted.
We have a super cool movie theatre, The Grandin. It's also haunted.
Monterey House on the campus of Roanoke College? Super haunted. We got lots of haunted places around here!
There are tons of great historic spots in and around Roanoke. We're about an hour and a half from Appomattox, where the Civil War ended. Appomattox is SUPER HAUNTED and I have stories to prove it.
On one fateful night in 1976, at the former Avalon Club in Appomattox, The Rolling Stones played a secret concert, upsetting the bar's regulars so much they ran the Stones off the stage, destroyed their instruments, and allegedly hit Keith Richards in the head with a whiskey bottle, leaving a scar that is still seen to this day.
Does that story have anything to do with Roanoke? No, but it's one I love talking about.
Within an hour of each direction of Roanoke is Virginia Tech, home of basically the birthplace of the modern College Game Day on ESPN. Lee Corso's rental car was struck by lightning there. There's also Martinsville Speedway, NASCAR's oldest track. And also Lynchburg, Virginia, former home of the incomparable Connie Britton. If it wasn't for southern Virginia there would be no Tammy Taylor to save the Dillon Panthers! You're welcome.
Franklin County, Virginia is the moonshine capital of the world and they have the t-shirts to prove it!
Spending time in and around Roanoke, Virginia is anything but a punishment. We'll show you. Come and see us sometime! And bring Wayne Newton with you. Danke shoen.