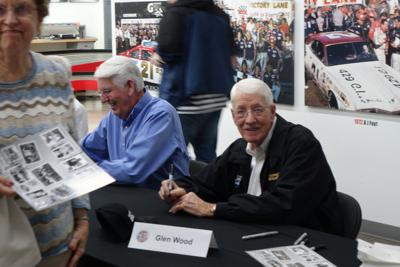 One of my first solo racing assignments for the Martinsville Bulletin was in the spring of 2016. The Wood Brothers were having a fan meet-and-greet at their shop and museum in Stuart ahead of the Martinsville Speedway race that weekend, and I was to go and just take pictures.
I will be the first to admit when I started at the Bulletin I didn't know anything about racing. I think Dale Earnhardt Jr. and Jeff Gordon were about the only active drivers I could name. And of course I made the huge journalism mistake of not doing any research about the Wood Brothers before this event. I knew they were returning to a full schedule that year, and they had a young driver, Ryan Blaney, who was supposed to be pretty good. That was it. And in my young naivety I thought that was enough.
When I got there, I think it was obvious to all involved I had no idea what I was doing or where I was. Kim Wood Hall, Glen Wood's daughter, showed me around and finally said "Would you like to meet Glen and Leonard? They started this whole thing."
And they all couldn't have been nicer. The place was filling up with fans, and still Kim, Glen and Leonard Wood took me on a personal tour of the shop, describing every car, every poster, every driver who ever sat in the No. 21.
On one side of the shop, Blaney was signing autographs for the younger fans, and on the other, the Wood family was signing for the older fans. Fans who would come up and chat about this race or that one, and Glen listened to each one and had a personal conversation with each fan like they were sitting by the fire. For a good portion of the night I just stood beside him and took pictures of him signing autographs, partially so I could listen in on his conversations.
At one point he looked over at me and smiled and just said "are you having fun?" I smiled really big back. I'd done a lot of fun assignments in my career to that point, but this was by far the best.
There have been a lot of sports reporters come through the Martinsville Bulletin, and for a lot of them, like me, this is their first experience with racing. Thankfully, in Glen Wood, who passed away Friday at the age of 93, and the rest of the Wood Brothers, right down the street we had a family who helped feed a new interest, which made learning NASCAR much easier.
Mike Smith, a one-time Bulletin Sports Reporter who went on to work as Director of Public Relations at Martinsville Speedway, was just as green as I was when he started. His story of meeting the Woods was also similar.
"I first met Glen in 1977, when their shop was down on the river in Stuart," Smith said by email Friday. "I was a young reporter at the Martinsville Bulletin who had absolutely zero racing knowledge; actually, had never been to a race at that time. It made no difference to Glen. He patiently explained everything to me in that first interview. He didn't make me feel stupid; he made me feel like family."
Steve Waid worked at the Bulletin in 1970 before embarking on a 40 year NASCAR reporting career. His first story about the Wood Brothers came around 1972 or 1973, when the team was hitting their stride with David Pearson as their driver.
His first experience talking with Glen "describes to me and the rest of the world what he really was and how he really was." Waid wanted to do a story about them from their shop in Stuart, and enlisted the help of Martinsville Speedway PR Director at the time Dick Thompson, who set up the appointment.
"At that time I thought Glen and Leonard were pretty close to the vest, quiet, even secretive guys because that was the reputation they had, at least among many people," Waid said. "And it didn't help any when Dick told me, 'hey, you know the first question Glen asked me was how long is it going to take?' Well that just boosted my confidence to no end.
"But I went up there and I went to the shop and I tell you what, rather than seeing the individual I thought Glen was going to be, I met a very candid, very open, very informative man. He was very, very friendly, and Leonard was too. I knew that I was taking up their work time but nevertheless they answered every one of my questions and even showed me around the shop. So when I left there I thought, 'well, this is not quite what I expected at all. This is a pleasant surprise.'"
Since that day more than 40 years ago, every time Waid saw Glen or Leonard and talked with them it's been the same way.
"Just very friendly, very courteous, smiling, those kinds of personable people," he said. "And I thought this really went against the grain of everything I've ever been told.
"And more and more people found that out as the years went by… Those two brothers, when they were in the garage there they were as friendly and as cooperative as most anybody you could find. That was one of the qualities. In addition to being the innovator and the creator and the pioneer and the icon he was in NASCAR for all his years in the sport."
When I got back to the office that first night meeting the Woods, I realized that I had actually only taken a few pictures of Blaney, the whole reason I thought I drove to Stuart for the event in the first place. The majority of my shots were of the shop and the elder Wood Brothers. I was really embarrassed to tell that to my editor.
"It's mostly Glen and Leonard. Do people know them? Are readers going to care?"
My editor laughed a bit and said "Cara, you know they're legends right? They're a huge deal in NASCAR. Yes, people care."
I guess I should have realized that given everything they told me in my tour, but they were all so unassuming and down-to-earth it never hit me that they were some of the biggest names in the sport.
And the biggest thing was they didn't treat me like an outsider. Glen and his family wanted me to fall in love with the sport they had been in love with their entire lives.
They were successful in that endeavor, for me and many, many others.
"To me, that's what made Glen special," Smith said. "He never got caught up in all of the hype of the sport and the amazing things his team accomplished, all the honors he received. To him, it was about family, and his extended racing family."
(This story first appeared in The Martinsville Bulletin)